EMC Visualizing System
System Structures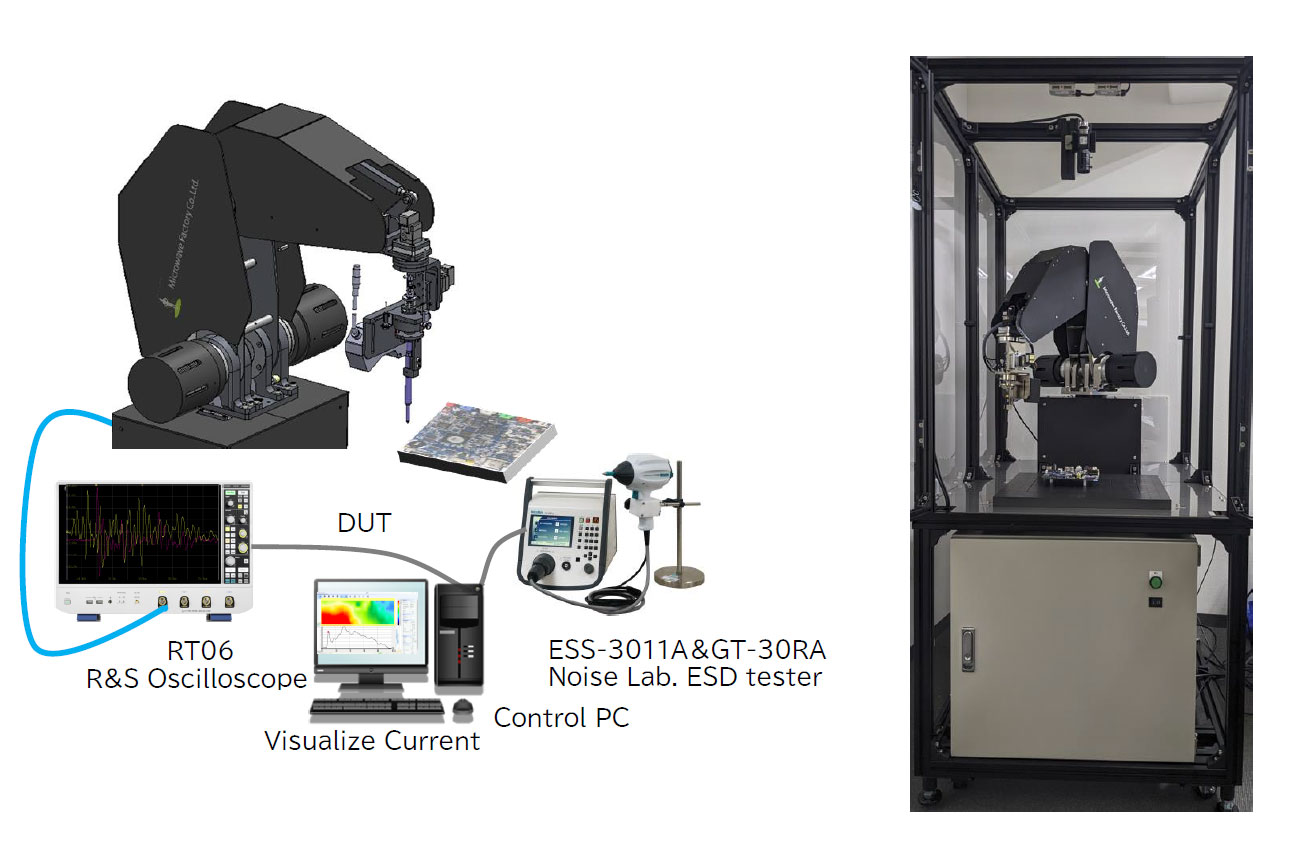 Measurement result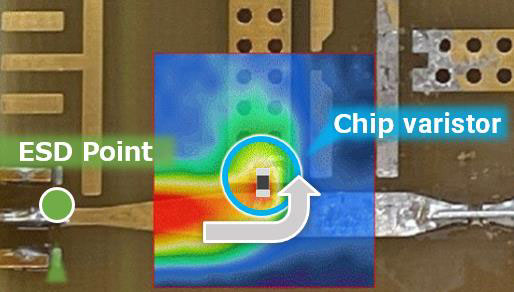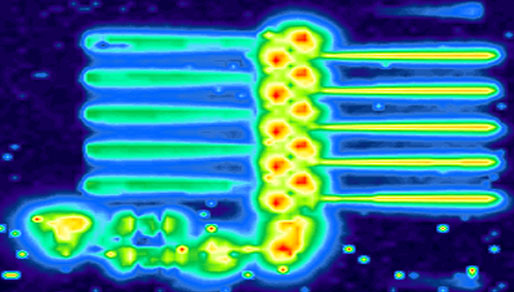 System spec
System Overview
1. 5 axis ARM Robot ; measurable area 400 W x 350 D x 3 00 (H)mm , θ: 90
2. Minimum steps ; 0.1mm step
3. Motor control via LAN
4. AC / DC adopter 100V 230V
5. Laser Pointer ; Positioning on PCB
6. Laser displacement meter ; Detection the height of components on PCB
7. Available to Multi Probes by attachment
8. Probe Protection ; Operation stop once contact
9. Control PC with ESD visualize software
Note ; we will supply Arm robot into shielded case for customers' safety.
Products overview
Accompanying electric devices low voltage operating, there are a lot of opportunities of ESD being issue for malfunction of the devices. This is ESD Visualizer (especially the route) to evaluate which should be measurement and the effectivity the counteractions, which is structured by 5 axis Arm robot and PC to control Oscilloscope, ESD tester, etc.
System Overview
Visualize ESD
The TIP of gun of ESD tester direct applying the voltage with attaching to GND and Connector on PCB during Magnetic field probe auto scanning, Oscilloscope repeating the measurement. Then, Visualized data is structured as time axis.
Visualize radiated noise
Similarly, Visualized data of the radiated noise from PCB is also structured as frequency axis, which Spectrum Analyzer repeating the measurement during magnetic field probe auto scanning on the PCB.
Specifications
Outline Dimensions
W:800 ㎜ x D:1100 ㎜ x H:1800㎜ (case size)
Measured range
W 400㎜ x D: 350㎜ x H 300㎜ (unfixed)
Placement Area
W 800 ㎜ x D: 1100㎜
Main units
ARM Robot with 5 axis, Control Software
Accessories
Probe, Pre Amp, Double Shielded Cable, USB cable, AC adapter
Measurement Equip.(Opations)
Oscilloscope, Spectrum Analyzer (R&S, Keysight)
ESD Tester (Noise Laboratory, AMETEK)
Magnetic & Electric Field Probes, Fixed jigs, etc.
Multi connection Probes available via attachment ;
(ex.) SEIWA, Langer, NARDA
Motor Control ;
Connect with control PC via LAN cable
Probe protection ;
Sensor for Down direction sensor (for Probe protection)
Sensor for Side direction (for DUT protection)
Measurement for the asperities of surface by Laser displacement meter
Measurement area (coordinate) designation ; Laser pointer