EMC Visualizing System
To resolve the issue for electro magnetic effect or electrical effect to human body or peripheral equipment and error caused by noise which ICT equipment design facing to.
EMC visualize system is the solution for "reducing noise from parts/equipment", "protect peripherals from noise" and "error occurred by electrical serge from human body". Solving these issue bring shorten development Period and reduce R&D cost.
ESD(Electro-Static Discharge ) / Impulse Visualizing System
ESD visualize system automatically scan ESD current flow using non-contact magnetic probe, visualize current path and visualize result for ESD counter measure.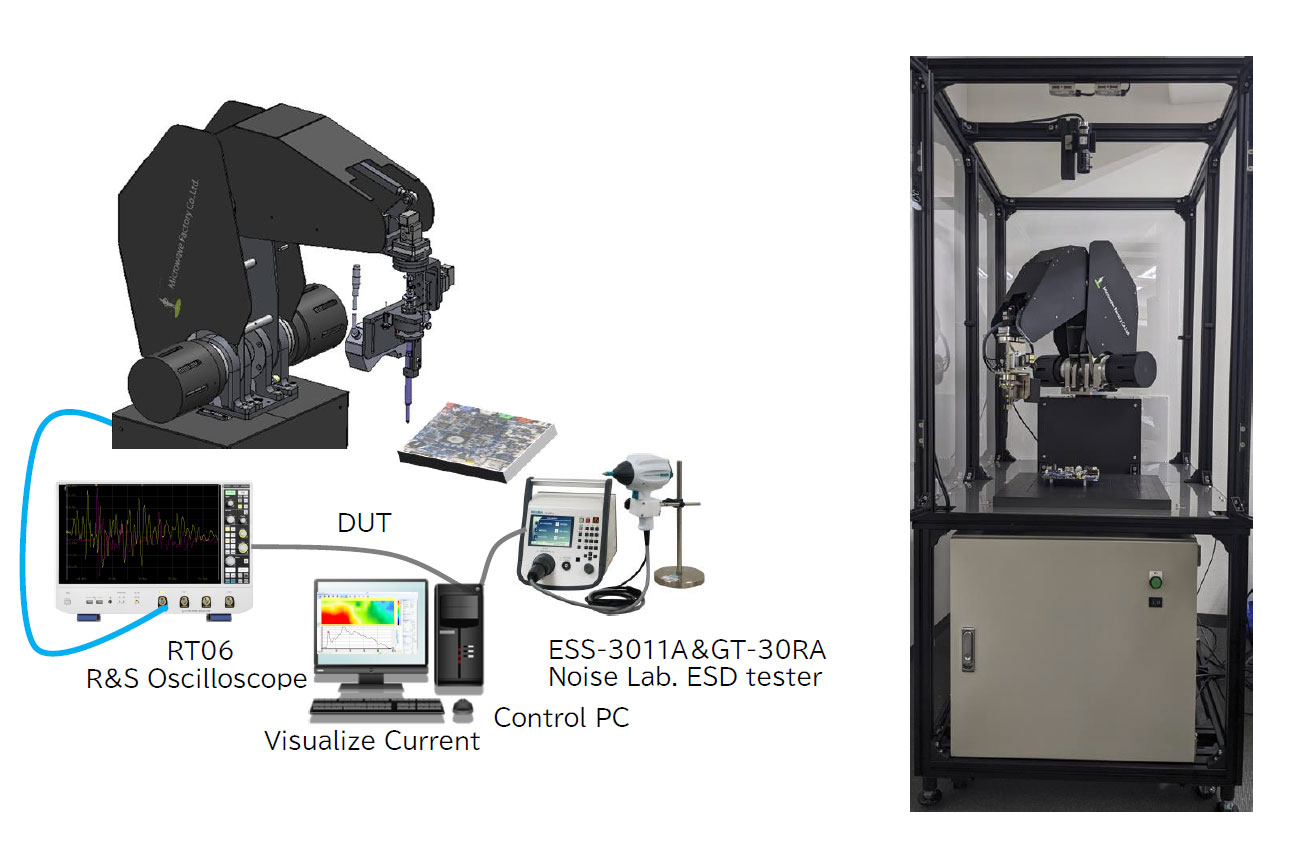 EMI(Electro-Magnetic Interference) Visualizing System
EMI visualize system automatically scan object with magnetic probe, display electro-magnetic field distribution (noise). Using PC, system control scanner and spectrum analyzer and figure out noise cause and effect of solution in office environment.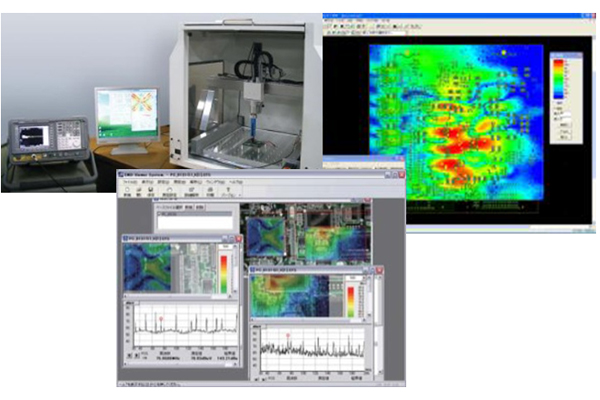 Measurement data analysis
Frequency display
Magnetic field distribution (map) display
Frequency points, frequency range, harmonics and peak search
XY composition
EMI Control design assistance (option when using EMI Stream)
4EM500 High-Accuracy EMC Scanner
High-Accuracy EMC scanner capable of measuring noise from a range of targets including semiconductors and housings. Automatic probe height adjustment and Lase positioning/identify function (option).
Target application
Equipment, PCB, Module, units, etc.
Measurement method
Magnetic scan using 4 axis stage
Measurable range
X, Y, Z = 500 x 500 x 210 (mm)
θ= -90 to +90 degree
Measurement step
X, Y, Z = 0.01mm θ= 1 degree
Available probe
CP-2S, MP-10L, etc.
Size
860(W) x 862(D) x 840(D) (except protrusion)
Weight
110kg (approx.)
Power
AC 100-240V 50/60Hz
Control I/F
Motor control board (USB or PCI Express)
Instruments
EMI
Spectrum analyzer, Pre-Amp
ESD
Oscilloscope, ESD gun
Impulse
Oscilloscope, Impulse Simulator
4EM200U Small EMC Scanner
Portable type EMC scanner. 4EM200U features a space/cost saving.
Target application
Equipment, PCB, Module, units, etc.
Measurement method
Magnetic scan using 4 axis stage
Measurable range
X, Y, Z = 200 x 200 x 210 (mm)
θ= 0, 90 degree ( Two angle)
Measurement step
X, Y, Z = 0.05mm
Available probe
CP-2S, MP-10L, etc.
Size
297(W) x 420(D) x 500(D) (except protrusion)
Weight
15kg (approx.)
Power
AC 100-240V 50/60Hz
Control I/F
Motor control board (USB)
Instruments
EMI
Spectrum analyzer, Pre-Amp
ESD
Oscilloscope, ESD gun
Impulse
Oscilloscope, Impulse Simulator
EMC Scanner System
Product line up Magnetic probe
Specification
| Magnetic Probe | CP-2S | MP-10L | AEKP001 | ALMP001 |
| --- | --- | --- | --- | --- |
| Frequency Range | 10MHz~3GHz | 150kHz~1GHz | 9kHz~30MHz | 100kHz~3GHz |
| Resolution | 0.25mm | 1.0mm | 1.9mm | 1.0mm |
| Head Size | 2*1mm | 12*3mm | 9mm*3.5mm | 12mm*3mm |
| IEC61967 | | | | |